Scam Emails targeting ASIC Customers
We have recently had a number of clients contact us to advise they have received emails purporting to be from ASIC, asking them to pay fees and give personal information.
The emails often contain a link that provides an invoice with fake payment details or infects your computer with malware if you click on the link.
An email is probably a scam if it asks you to:
- Make a payment over the phone
- Make a payment to receive a refund
- Provide your credit card or bank details
For further information about this scam, how to protect yourself from email scams and what to do if you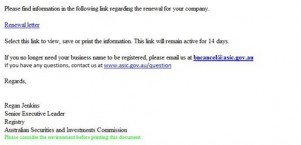 are unsure whether an email is from ASIC, please refer to the following link - http://asic.gov.au/online-services/service-availability/scams-targeting-asic-customers/
You are also welcome to contact us on (03) 5443 8888 if you have any questions or concerns regarding this matter.
You are also welcome to contact our IT team on (03) 5444 8799 for any assistance or advice regarding anti-viris software and protection strategies.