Bendigo RSL Museum Donation
Today MGR Information Technology (part of MGR Advisory Group) made a donation of $1,500 to the Bendigo RSL in support of the Soldiers Memorial Institute Military Museum Building Appeal.
Scott Jefferis (MGR Information Technology Director) met with Kirsten McKay (Bendigo RSL) to deliver the donation cheque.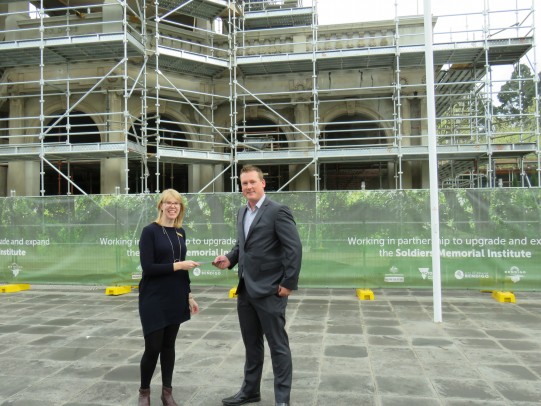 The $4.5M revitalisation project has now commenced and is expected to be completed by late 2018. The project is funded by the Australian Government, Victorian Government Living Heritage Grants Program, City of Greater Bendigo, and the Bendigo District RSL and community contributions. MGR encourages the Bendigo community to show it's support for this project and raise the remaining $250,000 contribution to help make the Soldiers Memorial Institute Military Museum the best regional museum in Australia.
For further information and to donate to this great local project, please visit the project website: www.bendigobank.com.au/rslsoldiersmemorialappeal
You can also donate by visiting any branch of the Bendigo & Adelaide Bank to contribute through its Community Enterprise Foundation.