Sunday penalty rate changes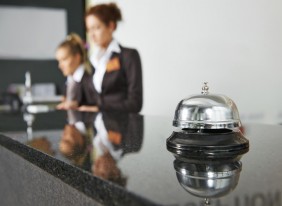 After a four-month consultation process and plenty of submissions from business groups and unions, the Fair Work Commission has handed down its decision about how changes to Sunday penalty rates resulting in lower rates for retail, hospitality and pharmacy awards will be introduced.
The Commission has decided upon a transition period of between three and four years for the changes to come into affect.
Given the complexity of the changes, experts are urging SMEs to read the fine print before acting on the changes. Here's what you need to know.
The changes, award by award:
Retail
Sunday loading rates for full-time and part-time workers covered by the Retail Award will drop from 200% of the regular hourly rate to 150%.
Casual workers will eventually see a decrease from 200% to 175%.
The Commission's decision involves a four-year rollout period for full-time workers and a three-year transition for casuals. This starts on July 1, 2017, when the rates will drop 5%, from 200% to 195% for full-time, part-time and casual workers.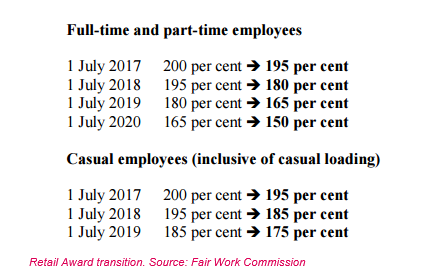 Hospitality
The Sunday loading for hospitality workers will eventually transition from 175% to 150% of the usual hourly rate for full-time and part-time workers, while casuals will see no change.
This change will be introduced over three years, starting with a 5% drop, from 175% loading to 170%, from July 1, 2017.
Pharmacy
The plan for pharmacy workers is to move towards a 150% loaded rate for full-time and part-time employees who work between 7:00am and 9:00pm on Sundays, and to 175% for casual workers who are rostered during these hours.
This will be a four-year transition, starting with a 5% reduction in rates from July 1, 2017.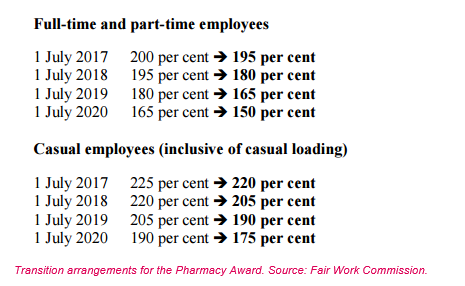 Fast Food
Changes to wages for workers covered by the Fast Food Award only apply to those classed in the "Level 1" employee band. The transition will move full-time and part-time workers from a 150% loading to 125%, and from 175% to 150% for casuals.
This will be phased in over three years.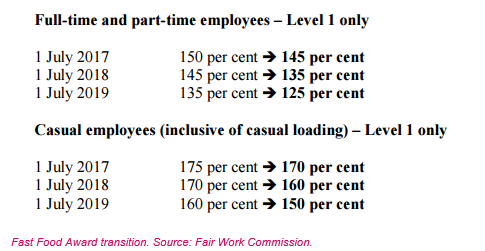 Public holiday penalty rates
From July 1, changes to public holiday rates for employees in the following awards will apply: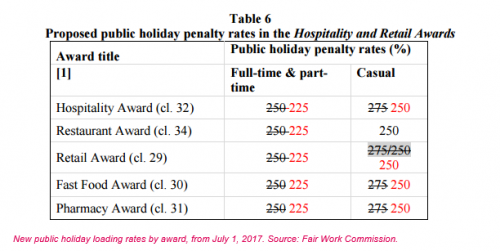 What SMEs can implement from July 1
Small business owners now have a choice on whether they start implementing new Sunday rates for eligible staff immediately, or whether they want to continue to pay their existing loadings, says workplace lawyer Peter Vitale.
However, for full-time and permanent part-time workers, SME owners should make sure the contracts their staff are employed under don't compel them to keep paying the previous loading rates.
"In some instances with ongoing employees, there may be a question on whether the contract of employment compels the employer to keep paying those rates on an ongoing basis," Vitale explains.
"For part-time and permanent employees there certainly may be a question of this, so I think it's important for employers to check that first."
Vitale says businesses will have to sit down and work out their new obligations, both on the penalty rates changes and the new minimum wage level, which will also come into effect from July 1.
"There will be an increase on one hand and a decrease on the other, so it's a matter of exercising care to understanding your obligations," he says.
It will be up to employers as to whether the changes apply to all employees or just new hires from this point forward, but Vitale says when it comes to managing employees on different levels of pay, this is nothing new in the business world.
"In terms of the employees working side by side on different rates of pay, that's been going on forever," he says.
What not to do?
Vitale says employers should be wary not to "jump the gun", while the Fair Work Commission outlines that employers can only change loading rates in line with the transition plans outlined above.
This means that even though a business might have employees whose wages will eventually have a 150% loading apply on Sundays, the full effects cannot be introduced for three or four years.
Employers also need to take care around rostering workers based on their hourly rates during this transition period, Vitale says.
During the transition there may be cases where two workers are on different hourly rates depending on when they started with a company, but that doesn't mean those on a lower salary can be prioritised for Sunday shifts.
"In terms of not rostering people on higher rates, employers need to be extremely careful about that. There's potential that sort of conduct, in a systematic way, could result in an adverse action claim," Vitale says.
"To deny the employees hours of work that they'd ordinarily be given because they enjoy a benefit under an industrial instrument, may give rise to some difficulties."
Communication is key
There has been plenty of talk in politics and the media about the Fair Work Commission's original decision on Sunday penalty rates, which makes clear communication between employers and staff all the more important.
"These are potentially significant changes — I think it's important employers explain what's going on to their employees," Vitale says.
It's critical that workers aren't left in the dark on the impact of the changes until they see their first payslip, so Vitale says it's important to discuss decisions on this issue early on.
"Good employers do that as a matter of course," he says.
© Copyright Emma Koehn, Smart Company
Further assitance
As always, you are welcome to contact us on (03) 5443 8888 if you have any questions or concerns regarding this matter.