Welcome to Central Victorian Technology Services (CVTS)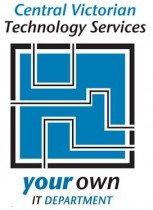 Central Victorian leaders in information technology, MGR Information Technology are pleased to announce the merger with fellow Bendigo based IT provider, Central Victorian Technology Services (CVTS).
Both the founder of CVTS, Mark Hilson and MGR Information Technology Director, Scott Jefferis will be working closely together during the transition. For clients the new look organisation will continue to deliver business as usual.
Staff at both MGR and CVTS will remain in Bendigo, so the transition for customers will be as seamless as possible.
"As Bendigo's population increases so too does the level of technology service demanded from local small medium enterprises," says Stephen Griffin, Managing Partner of MGR Advisory Group, of which MGR Information Technology is part of.
"This is an exciting opportunity as it brings together two similar businesses with like-minded teams, so we can deliver even better information technology services in the Greater Bendigo region,"
The merger will allow the business to continue to provide the highest level of ongoing support and the resources to undertake IT project work that assists local SME's to implement strategies in line with their business growth objectives. 
As established local IT businesses both MGR Information Technology and CVTS boast over 25 years of IT service and experience to the business community of Bendigo, Castlemaine and Echuca.
For further information please contact Scott Jefferis (03) 5444 8799 or email the MGR Advisory Group at mgr@mgr.com.au or visit   http://www.mgrit.com.au