Grow Your Business In 5 Days
- Video Training Course - Video #9

TUTORIAL #9: CREATING A WEBSITE THAT SELLS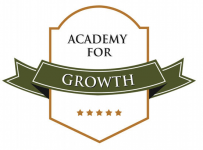 Hello and welcome to 'Grow Your Business In 5 Days'.
This tutorial is one of the most important videos of the entire course. A key to your success, no matter what industry you're in, is having a website that sells, one that generates a constant stream of enquiries or sales. It's the heartbeat of your business growth system and when you get it right it should be pumping out enquiries or sales on every beat! In fact, I'd bet that one of the reasons you're watching this training course, is because you're not happy with the results of your website.
When I'm engaged to speak on behalf of our members, by far the most requested topic is 'How To Create A Website that Sells' …and I'm not surprised. Having a better performing website will make a massive difference to your success and it doesn't matter how successful your site currently is, I can guarantee there are many things you can do to make it even better.
There's a lot of information out there about what you should and shouldn't do regarding websites and business owners like you need to know who to listen to. So just in case you need any further convincing of my credentials when it comes to marketing online, I'll give you a very quick overview…
For starters, I've been online since 1996 successfully selling products and services from as little as 27 up to 60,000 pounds and dollars. That's' just three years after CERN – The European Organization for Nuclear Research – donated the World Wide Web to the rest of the world. Take a close look at our business…
The Academy For Growth – is a multi-million pound business and our websites are the primary reason for our success. My team and I live and breathe the internet and as an organisation we are constantly at the forefront of everything that works, not only offline, but online as well.
We have three separate online departments here at Academy for Growth – one focused on our web development, one focused on our Google AdWords and another focused on our social media. These three departments also work with hundreds of our members and subscribers all over the world – on a daily basis. Plus, at any one time, I would guess that across our 3 departments, we are running between 30 and 50 online tests EVERY single month. Without blinding you with science, we use sophisticated software to run these tests and the results are fed back into all our websites and programmes.
I can assure you, we don't play at online marketing.
Put simply, we know what works, we know what works best and we know what doesn't work. And we keep testing, because as you know, the internet and the media within it change on an almost daily basis. What worked last month may not be working in a few months' time. So what I'm about to reveal is what's working right now. Clearly I don't have time today to take you through everything required for you to create a website that sells or sells better. But what I am going to reveal is our 'Website Success Formula'.
But before I do that, I just want to make an important point. You'll notice I talk a lot about creating a website that 'sells'. Don't take the word 'sell' literally. 'Sell' is the easiest word to use to describe what should happen when visitors arrive at your website.
To make things easy for you to understand, there are just two types of websites. No matter what you think and no matter what industry you're in, you will require one or the other or both. First is what we call...
1. SELLING WEBSITES: You have a business where visitors can buy products or services from your website. Your primary objective in this instance is to get the sale (which may occur on the website itself through your online store, or by phone to your office/call centre, etc.). In reality, even if you sell online, your website will also need to combine elements of the second type of website, which is…
2. ENQUIRY WEBSITES: If you don't sell anything direct on your website, then the primary objective is to generate an enquiry, allowing you to hopefully convert that enquiry into a customer, client or patient. An enquiry can take many forms and obviously it depends on what product or service you're selling. But it could be a request for a...
• meeting
• free estimate
• quote
• onsite visit
• telephone call
• further information
• menu
• etc.
You will know what an 'enquiry' is for your business.
So I'll repeat…
No matter what you think – that's it. Just two types of websites. Having a website to act as an online 'brochure' or to give people information is WHY most websites fail or never reach their potential. The only reason for a website is to either get the sale, or to help move the potential customer CLOSER to the sale as part of your carefully planned sales conversion system which we discuss in the next tutorial. THIS IS THE FIRST RULE OF HAVING A WEBSITE THAT SELLS!
So let's get back to the formula…
In reality, no matter what industry you're in, or what you sell, there are just 7 elements that you need to apply to create a very successful website. These 7 strategies are all part of our 'Website Success Formula'. The Website Success Formula is our tried, tested and proven system that you can use to create a very successful website. In other words, one that generates a constant stream of good quality enquiries or sales.
So let's take a look at the components of the formula and then I'll take you briefly through each of them.
They are...
1. THE MARKETING HUB & SALES FUNNEL
2. THE PRIMARY OBJECTIVE
3. PAGE LAYOUT
4. VIDEO
5. THE SECONDARY OBJECTIVE
6. AUTOMATED FOLLOW-UP and...
7. TARGETED TRAFFIC.
So first, let's talk about STEP 1 – The Marketing Hub And Sales Funnel.
What this means is your website must be the central hub and the focal point of your entire marketing system. And if you think about it, every piece of marketing material, every strategy, and every tactic you use will include your web address – or it should. Your marketing material should drive targeted traffic to your website which then acts as a sales funnel to churn out sales or enquiries for you.
S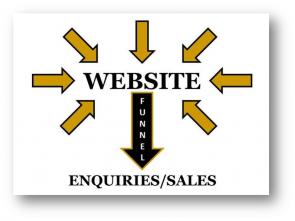 o if the site doesn't work then much of the investment you make in marketing is wasted, which means you might as well throw your money down the drain! Take a look at this diagram. It shows how your website should integrate with all the marketing strategies you're using. It should act as a SALES FUNNEL to create a never-ending supply of enquiries.
Notice all the strategies point to the website and then the website squeezes either sales or enquiries or both out of the bottom, much like a funnel does. Without an effective website the sales funnel is blocked. Meaning that many of the interested people generated from all your marketing activity, simply stop at the web site and go no further.
THIS IS THE NUMBER ONE REASON WHY MOST WEBSITES DON'T WORK OR DON'T WORK AS WELL AS THEY SHOULD.
Figuratively speaking, the funnel is blocked meaning few if any people progress through to an enquiry.
The second part of the Website Success Formula is the Primary Objective. This is the easiest part of the entire formula. You have just two choices. Your Primary Objective is either to generate sales or to generate enquiries. That's it. Now that may seem simplistic and not too important to you, but believe me you need this clarity and focus so everything on your site is geared to achieving your Primary Objective. This clarity ensures you stay laser focused on the objective and helps you to make decisions about what's important and what's not. If it doesn't help you get closer to the primary objective then whatever it is – it's not required.
The next part of the formula is 'Page Layout'. Whilst your home page is your most visited page, you need to understand that EVERY page should be written and formatted like a landing page or what's known as a squeeze page.
It's called a squeeze page because it forces the visitor to fulfil your primary objective and the page is constructed in a way that it squeezes them into taking action!
We've carried out countless tests on creating the perfect squeeze page and whilst some elements differ for each industry there are 4 success elements that remain constant...

•
First, you need a powerful headline at the top of each page – the name of your firm is NOT a powerful headline. By all means put your logo at the top, but make sure it doesn't over-power the headline.

• Second, you must use video. Ideally, it should be positioned in the middle of the page above the fold. That means when the page loads the video can be seen immediately by the visitor without scrolling. I'll talk more about video shortly.

• Third your copy or the words you use in your video and on the page itself must push the primary objective, which once again I'll cover shortly.

• And finally, you need to tell the visitor exactly what to do next. This is known as the call to action.

I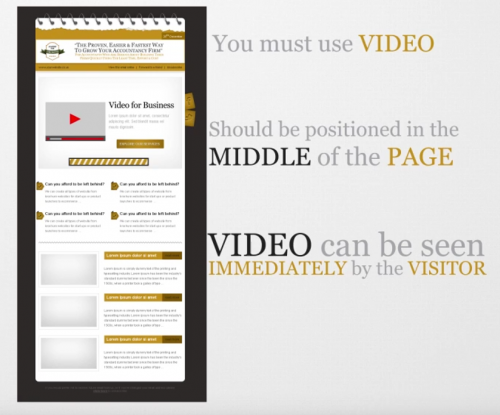 f these 4 critical components aren't in place and working at their optimum, then your sales or enquiries will drop significantly.

The fourth part of the formula is video. Video enables you to communicate in a very personal way with your visitors and since most people take in more information from both visual and auditory presentations, video is the KING of the internet. And what's amazing about video is our tests have shown that the effect of having a great professionally produced video on your website can triple response – yes triple.
So what's the purpose of your video? Well that's easy. It has to deliver your Primary Objective. It has to reinforce to the visitor why they should either buy from you or enquire. This is your opportunity to wow the visitor. So how do you create a video? Well the good news is that there are now numerous video creation services that will create the video for you. It will cost a few thousand pounds or dollars, but it's worth every penny. Or you can do it yourself…

Camtasia is a great piece of software that enables you to create your own videos and only costs a few hundred dollars. There are many, many styles of video and we use or have used most of them. In fact, there's a list of URLs directing you to the different videos we're using successfully at the moment in the One Page Action Plan that comes with this tutorial.

But to give you some idea of what can be done, here's an example of the video that our studio creates for our accounting members. You'll notice a couple of styles are shown. It only lasts 4 minutes, and as you watch the video pretend you're looking for a new accountant and you'll see for yourself just how compelling video can be when it's written with the Primary Objective in mind, which in this case is to generate an enquiry.

You'll also see how the video really works hard to push the meeting. That's what you have to do to get people to take action – even for something that's FREE. Since our members are all over the world, we have a number of versions of this video each with a professional voiceover in UK, US, Canadian, Australian, New Zealand and Irish accents… <PLAY VIDEO>

Your video doesn't need to be this sophisticated. Just remember the script is the most important element. Make sure it's completely focused on the Primary Objective and you'll have a winner on your hands.
The next part of the formula is the 'Secondary Objective'.
The Secondary Objective is your 'widget' that you give away for FREE in return for the visitor's name and e-mail address. Remember, only a small percentage of visitors will buy from you during their first visit.
So let's take a look at how you go about creating your Secondary Objective and how you can automate the whole process...

Your widget should be a free 'something'. But a 'something' that's of high value to your visitors. For example, the following 'widgets' work really well... Special Reports. These are best as PDFs because there's no cost to distribute them. They should focus on giving your visitor quality information they can't get anywhere else. Information that demonstrates and reinforces your expertise and why they should ultimately choose you above everyone else.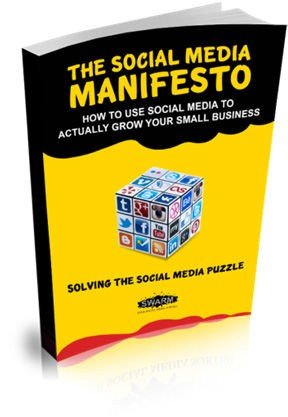 The key, as with many of the things you do, is to create a name for the report which is irresistible to the visitor. For example, here's the special report we use for SWARM – our social media management service. The title is 'The Social Media Manifesto – How To Use Social Media To Actually Grow Your Small Business'.

It works really well to engage with people who aren't quite ready to buy, or who want more information about what we do. Notice the title of the report is directed to the target market we want it to appeal to. This is very important as I have stated many times throughout this course.

Buyer Guides

Buyer guides are highly desirable. Typically they are written to explain the pitfalls of buying your product or service and explain the multitude of options available to the visitor. Obviously the guide is skewed towards your products/services.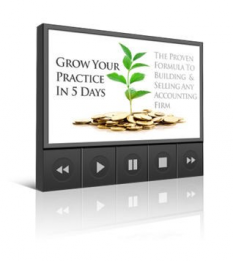 Training Videos
Training videos are one of my firm favourites as they have a high perceived value. We have been offering training videos since 2011 and they have transformed our results, which were already impressive. As we've done with this course, you should provide a transcript of each training video and a simple action plan to go with it. Both these things add considerable value. You can see another example of our training videos here… www.academyforgrowth.co.uk
This is a 5 day, 10 part course tailored to accountants and CPAs. Once again, your training videos should be focused on solving a big problem faced by your visitors. Think of it as the 'Special Report' in video!
Books
Your own authored book is a great giveaway and of course represents fantastic value whilst demonstrating your expertise.

There isn't a one size fits all solution when deciding on your widget and ideally you should test what works best for you. But as long as it's tailored to your target market and has an appealing title, it will be successful for you.
So that's the secondary objective sorted. But it's only half the story. What we now need to do is deliver the 'widget' automatically and then follow up on autopilot...
This is Part 6 of the formula…
To maximise the value of each visitor and to put your website on autopilot, you need to create an automated step-by-step follow-up system for the visitors who request the 'widget'. If you recall, visitors get the 'widget' – your Secondary Objective, once they've given you their name and e-mail address. Follow-up is the critical part of the Secondary Objective and for generating more enquiries or sales.
But for effective follow–up, you need a fully automated system. One that runs on autopilot every minute, every hour, every day of every year. Your follow-up will be a series of e-mails delivered each week to the people who have opted in to receive your widget. The e-mails are delivered in sequence using what's called an autoresponder.
So how do you set up a successful follow-up sequence?
First, you need a good autoresponder service. I've been using autoresponders since 1996. There are a number of services around. For various reasons, we use Infusionsoft, although to get started I recommend you use AWeber. It has the industry's highest e-mail delivery rates and their system is very easy to use. It only costs $1 for the first month and then it depends on the volume of subscribers or opt-ins on your list, but prices start from around $20 for 500 subscribers. For more details on the AWeber autoresponder service go to... http://academy.aweber.com
Next, you need to decide on the frequency of your e-mails. Now the first one should of course be delivered to the subscriber immediately, thanking them for requesting your 'widget'. It should also include the link to download the 'widget'. Now I'm going to let you into a secret. We have of course tested frequency to the nth degree and for most businesses sending an e-mail EVERY day works best. Don't let the frequency ever drop to less than 1 email every 7 days. Depending on the target market, we e-mail our subscribers every day or every two days.
Now you may be surprised at that, and you may feel it's too frequent. But anything less and your results tail off alarmingly.
Of course you now have to write your series of e-mails. As you can imagine, there's an art to writing effective e-mails. It took me several years to get good at it. The key is to weave a story into every e-mail you write. It should end with a link to you and your offer but the story makes the e-mail interesting and makes it hard for the recipient to stop reading.
I recommend you study all the emails you get from us. You'll learn a massive amount from them.
You've now got a website that 'sells' and a follow-up system that will convert more visitors into good-quality enquiries or sales, but there's one final piece of the jigsaw missing – the traffic itself. Or more importantly, targeted traffic. This is the final part of the Website Success Formula...
Listen, there's no point in having a great website if the right people don't visit it.
Remember, we've created a website that acts as a marketing hub and sales funnel. Here's the original diagram showing all the marketing strategies pointing to the website and the website converting them into sales or enquiries...
What you now need to do is launch a number of cost-effective marketing strategies targeted on the people/businesses you want to acquire as customers, clients, or patients, with a view to getting them to go to the website which will then do its job and convert them into sales or enquiries.
Once you've got a great website in place, you can confidently move forward using a number of carefully chosen online and offline marketing strategies.

EVEN IF YOU'RE AN ONLINE BUSINESS, YOU SHOULD BE USING BOTH ONLINE AND OFFLINE STRATEGIES.
There are a myriad of strategies you should be using, and in the BGS Vault, we have 27 of the most successful ones for any business to successfully implement into their business. For example…
• Sales letters
• Print advertising
• Postcards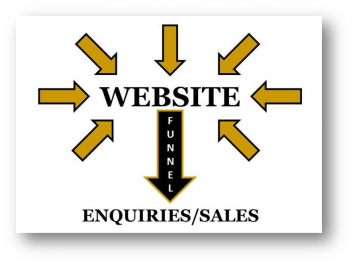 • Leaflets
• Seminars
• Joint ventures
• Email marketing
• Google AdWords
• LinkedIn advertising
• Facebook advertising
• Monthly Printed Newsletter
• And 16 more strategies that you can use right now to generate more traffic, more enquiries and more sales.
And one last point, a really important one. You'll notice this diagram, which I've shown you several times already, doesn't just show one or two strategies pointing to your website. It is absolutely imperative that you use as many strategies as you can to maximise your traffic, your enquiries and your sales. Failure to do so will result in poor, disappointing or less than expected results. This is very important. Too many businesses use too few marketing strategies. Don't make the same mistake!
Okay, to finish, let's recap on the 7 stages of the Website Success Formula...
THE MARKETING HUB & SALES FUNNEL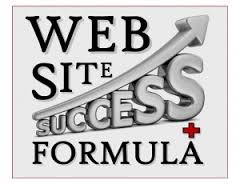 + PRIMARY OBJECTIVE
+ PAGE LAYOUT
+ VIDEO
+ SECONDARY OBJECTIVE
+ AUTOMATED FOLLOW-UP
+ TARGETED TRAFFIC
= A WEBSITE THAT 'SELLS'
So that's what it takes to get results with your website.
So let's recap... Here are the key learning points from this tutorial...
1. First... follow the Website Success Formula to create an enquiry or sales generating website.
2. Second... make sure you use multiple strategies to generate traffic, enquiries and sales – the more, the better.
3. And third... you can take time and effort and hours of testing to create a website that sells, or you can take the short-cut and join the BGS Vault and get access to our step-by-step Website Success Formula. Whether your business is online or offline, the formula takes you through each of the 7 stages to ensure your website sells. For more details, simply enter your name and e-mail address in the boxes on the right of this page and watch the presentation video.
Now please DOWNLOAD the 'One Page Action Plan' that accompanies this tutorial and start putting together your own website that sells.
Thank you for watching.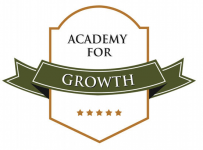 © Copyright Academy For Growth Limited
Suites 1-10, Water Lane, Wilmslow, SK9 5BG United Kingdom
Tel: +44 (0) 1928 508 894 www.BGSvault.com